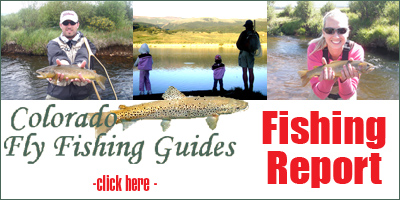 ARKANSAS RIVER, SOUTH PLATTE, SPINNEY RESERVOIR, HAYDEN RESERVOIR, HIGH ALPINE LAKES, OR BUSK CREEK WALK/WADE

2 HOUR INTRO. TO FLY FISHING
1 PERSON - $150
2 PEOPLE - $215
3 PEOPLE - $280
A nice choice for the "never ever" looking for an introduction to the sport at in a forgiving environment. We'll start with a casting lesson then step up to the water at Hayden Reservoir for some fishing.

4 HOUR HALF DAY TRIP
1 PERSON $225
2 PEOPLE $320
3 PEOPLE $435
A trip for all abilities. Beginners to the sport will start with a casting lesson and some fishing at a local lake – this will be followed by lessons and fishing on the river. If you have some experience with the sport you'll enjoy a nice morning or afternoon exploring the river.
FULL DAY EXCURSION
1 PERSON $340
2 PEOPLE $465
3 PEOPLE $610
If a half day is just simply not enough let us take you on a full day excursion! These trips are a quest for trout and can feature a variety of water throughout the day.
BOAT TRIPS
HALF DAY - $225
FULL DAY - $340
Colorado Fly Fishing Guides is now offering one person boat trips from our FishCat13 pontoon.  Spend some time on the water at Spinney Reservoir or Turquoise Lake.
HIKE RATES
2HR TRESTLE LOOP (approx. 4mi.) - $135
4HR LAKE AND TUNNEL LOOP (approx. 6mi.) - $195
Distances are approximates and times are based on a casual pace. Prices reflect the total for the trip for 1 - 4 people.  Additional people are $35/person.
WHAT'S INCLUDED?

MOST SHOPS CHARGE YOU EXTRA
rental fees, user fees and make you buy flies for the trip.
At Colorado Fly Fishing Guides all that is included!
The price of the trip includes use of rods, waders, flies and other terminal gear.
Intros and half day trips include a snack, water and soft drinks.
Sub sandwich lunches from High Mountain Pies are provided on all of our full day trips.
Participants 16 and older must possess a valid Colorado fishing license.
A one day license is $9 and are available for purchase at the shop before departure.


Ask about our other private water opportunities on the Arkansas River, South Platte and other water around the state for an additional rod fee of $75/rod.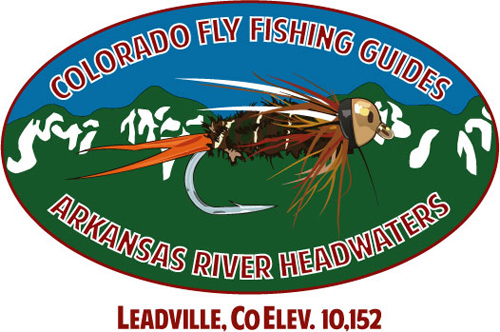 Colorado Fly Fishing Guides
A division of Alpine Ski & Sport LLC
711 Harrison Ave.
Leadville CO 80461
866 908 7547

web: www.coloradoflyfishingguides.com
email: info@coloradoflyfishingguides.com
State of Colorado Outfitters Registration #2530
* Colorado Fly Fishing Guides operates under a Special Use Permit with the USDA National Forest and promote equal opportunity in participation and employment.